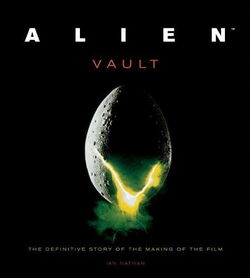 Alien Vault, also known as Alien Vault: The Definitive Story of the Making of the Film is a book written by Ian Nathan that illustrated the making of the 1979 film Alien. It was published September 8, 2011.
The book featured director Ridley Scott's own annotated storyboards, Polaroids and script pages; the elegant but disturbing concept artwork of H.R. Giger; sketches and construction blueprints for the Nostromo; costume designs by Moebius; a treasure trove of never-before-seen photographs of the cast and crew; and ten meticulously reproduced artefacts, enclosed in vellum envelopes, for readers to remove and examine more closely.
Ad blocker interference detected!
Wikia is a free-to-use site that makes money from advertising. We have a modified experience for viewers using ad blockers

Wikia is not accessible if you've made further modifications. Remove the custom ad blocker rule(s) and the page will load as expected.