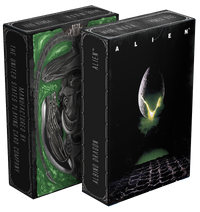 The Alien playing cards deck consists of a total of 52 playing cards, each of them decorated by various artworks of Xenomorph Facehuggers, Chestbursters, and Drones in different poses for each perspective playing cards. The playing cards are produced by Albino Dragon and the Xenomorph artworks were provided by Matt Demino.
External links
Edit
Ad blocker interference detected!
Wikia is a free-to-use site that makes money from advertising. We have a modified experience for viewers using ad blockers

Wikia is not accessible if you've made further modifications. Remove the custom ad blocker rule(s) and the page will load as expected.