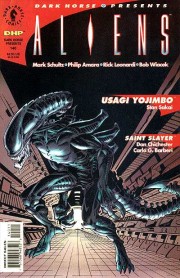 Aliens: Once in a Lifetime was a short comic book story published by Dark Horse Comics in Dark Horse Presents #140 in February 1999. The story was written by Mark Schultz with art by Rick Leonardi and was edited by Randy Stradley. The issue featured an Aliens cover drawn by Leonardi and inked by Bob Wiacek.
Once in a Lifetime was eventually collected alongside other Aliens comics in Aliens Omnibus: Volume 6 in December 2008.

The black-and-white story was a tie-in with the miniseries Aliens: Apocalypse - The Destroying Angels --also written by Schultz and collected in the same Omnibus volume.
In the Aliens comics line, Aliens: Once in a Lifetime was published in the midst of the release Aliens: Apocalypse - The Destroying Angels (Jan.-May 1999), and was followed by Aliens: Xenogenesis.
This month Aliens takes the spotlight in a tale from writer Mark Schultz and artist Rick Leonardi that ties in with Schultz's current series Aliens: Apocalypse.
Like the miniseries it ties into, the story attempts to flesh out the Aliens' backstory and proposes a notion on their adaptability.
Ad blocker interference detected!
Wikia is a free-to-use site that makes money from advertising. We have a modified experience for viewers using ad blockers

Wikia is not accessible if you've made further modifications. Remove the custom ad blocker rule(s) and the page will load as expected.