The Aliens toyline is a series of action figures and related toys that was released by Kenner Toys to coincide with the release of the SNES Alien vs. Predator game. The action figures included several new characters along those from the films, such as Ripley, Hicks, and Hudson, but also including new Xenomorph castes exclusive to the toyline. Several of these Kenner Aliens would later be repainted as KB Toys exclusives in three separate lines, including Aliens vs. Marines two-packs and the Hive Wars line incorporating previously unreleased figures.
Originally released by Kenner in 1992, the toy line was originally made for a cartoon titled "Operation: Aliens". The cartoon ended up being cancelled, unfortunately, but Kenner already made lots of merchandise for the show, so they ending up releasing them under the name "Aliens".
Series 1 - When Series 1 was released, Kenner introduced to some Marines & Aliens figures. The Marines were Lt. Ripley, Corp. Hicks, the Bishop Android, Sgt. Apone, & Sgt. Drake. They each came with a pair of stickers and at least 1 gun. The Aliens that were introduced were the Scorpion Alien, Bull Alien, & Gorilla Alien. The Queen & Power loader Vehicle were released shortly after. All these figures, excluding the Power loader & Queen, had comics. Also, the 3 aliens were included with different colored Facehuggers.
Series 2 - When Series 2 was made, Kenner added an exclusive Marine & more Alien figures. These were the ATAX, that came with a Queen costume, and the Alien figures were the Rhino Alien, Mantis Alien, Snake Alien, Queen Facehugger, and the Flying Queen. It also included an AVP 2-Pack & 3 new vehicles, consisting of The Evac Fighter, Stinger XT-37, & Electronic Hovertread.
Series 3 - Series 3 included Vasquez, O'Malley, & Hudson. Sadly, they were all released only in the UK. Kenner sent many cases of these marines to North American retailers, but they denied the new Marines because the Marines from Series 1 were failing to sell. Kids were only interested with the Alien figures, so Kenner sent 36 cases back to its China division. 24 were destroyed, so only 12 cases of each Marine are known to exist. New Aliens were the Panther Alien & the Killer Crab Alien. There was originally going to be a Mini Dropship vehicle, but it was cancelled. Later that same year, Kenner released the Night Cougar Alien ( repaint of the Panther ), Wild Boar Alien, & King Alien.
Series 4 - The final series for Kenner's Aliens figures. Kenner ceased to produce more Marine figure due to its failing sales and only focused on producing new Alien figures. These were the Electronic Swarm Alien & the Arachnid Alien. Kenner also released a Queen Hive Playset with real ooze.
Hive Wars - 2-3 years after Kenner's "Aliens" demise, they released a new line featuring figures not in the original toyline. They were the Acid Alien, Hive Warrior, Night Recon Predator, Warrior Predator, an android-looking Corp. Hicks, and Integer 3, an android.
Aliens vs Marines - 4-5 years after the demise of Kenner's Aliens figures, Kay-Bee Toys made repaints of some of the marines with Aliens in sets known as the Aliens vs Marines. There was Corp. Hicks vs King Alien, Vasquez vs Night Cougar Alien, Drake vs Arachnid Alien, O' Malley vs Queen Facehugger, and Hudson vs Scorpion Alien.
Xenomorphs
Edit
Gorilla Alien
Scorpion Alien
Bull Alien
Flying Queen Alien
Rhino Alien
Panther Alien
Snake Alien
Killer Crab Alien
Mantis Alien
Marine Vehicles
Edit
Stinger XT-37
Electronic Hovertread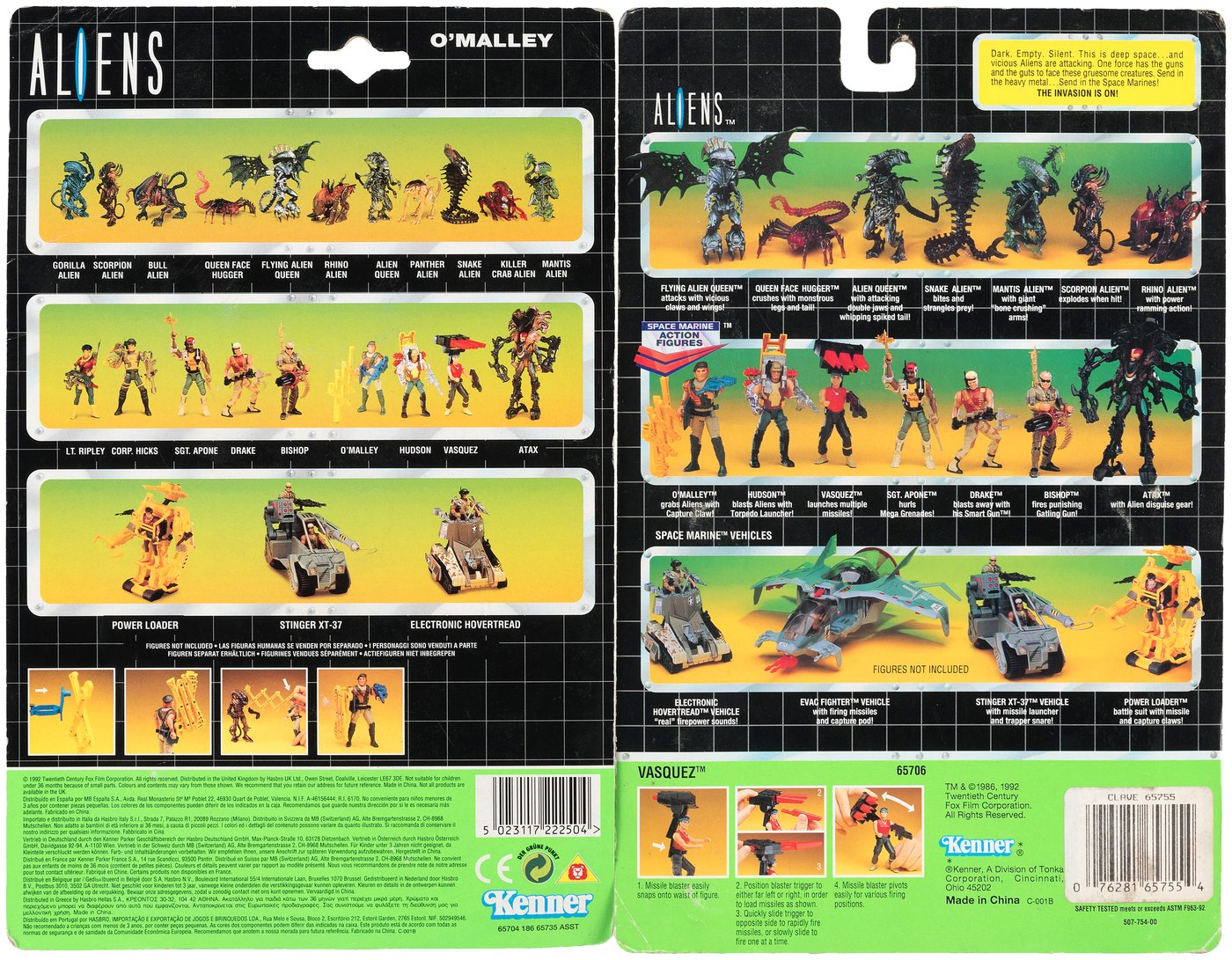 Ad blocker interference detected!
Wikia is a free-to-use site that makes money from advertising. We have a modified experience for viewers using ad blockers

Wikia is not accessible if you've made further modifications. Remove the custom ad blocker rule(s) and the page will load as expected.