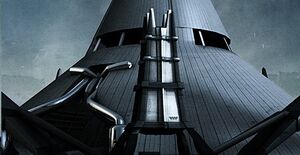 The Atmospheric Pressurizer is a huge piece of machinery sold exclusively in conjunction with Weyland Atmosphere Processors, the Atmospheric Pressurizer can create a locally adapted micro-pressurized "shirtsleeve"environment to prevent injury, illness or discomfort on off-world colonies with either marginal or oppressive stratospheric hold. On most planets, a standard atmospheric pressure of approximately 1.0 atmosphere at sea level can be achieved, reducing the need for decompression treatments and additional medical personnel in the early stages of terraforming.
Ad blocker interference detected!
Wikia is a free-to-use site that makes money from advertising. We have a modified experience for viewers using ad blockers

Wikia is not accessible if you've made further modifications. Remove the custom ad blocker rule(s) and the page will load as expected.