Lurker
Biological information
Host
Human
Caste
Physical description
Height
8'
Weight
370 lbs.
Distinctions
Chronological and political information
Status
Appearances
Alien
Portrayed by
[Source]
Lurkers, sometimes referred as Stalkers, Drones or Scouts, are the "worker bees" of a Xenomorph hive and are loyal servants to the Xenomorph Queen. They are responsible for collecting hosts, further building the hive and caring for the Queen's eggs.
Appearance
Edit
Lurkers are one of the smaller Xenomorph types. Runners tower over them by five inches or sometimes a whole foot when they stand upright. They are primarily black, sometimes grey with smooth domes. They average in size at about 6-7 feet tall standing on hind legs, and about 14-15 feet long, tail included. Lurkers will eventually mature into Soldiers within a period of days or perhaps a week.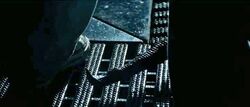 Unlike most of the Xenomorph caste, Lurkers start out by having smaller blade tips, rather than having large blade-tipped tails, which somewhat resembles a scorpion barb.
Intelligence
Edit
Lurkers seem to be more patient and careful. Whereas Soldiers will recklessly throw themselves against the enemy defenses in troves, Lurkers are more stealthy, and will lie in wait for their prey to come within striking distance staying as motionless as possible until its too late for the prey. However, Soldiers are numerous and as "front line soldiers" they can afford to be aggressive. Lurkers are weaker and less numerous and thus need to be stealthy. They also blend into a mechanical environment better than warriors due to their grey-brown or black coloration. They will take advantage of their environments and use maintenance tunnels and ventilation systems to traverse through ships. To an extent they can get through spaces that humans can.
Lurkers generally are not seen working in close coordination with one another in the absence of a Queen. This could mean Lurkers do not need the leadership of a Queen or the teamwork of others to function at an intelligent level, although only one Lurker has been seen without a Queen in the films and thus it impossible to canonically know their behaviour in a hive which has a Queen. The books, games and comics however, have drones in hives and their behaviour varies. Unlike Warriors. Drones are usually solitary, even in a hive, unless there aren't any or aren't that many Warriors around, in which case they will fill in as the hive's main defense. In Aliens: Steel Egg the Giff states that if a Xenomorph (all Xenomorphs in the novel are Drones) is left alone and there are no other Xenomorphs or a Queen present it will go through a process that will allow it to turn into a Queen.