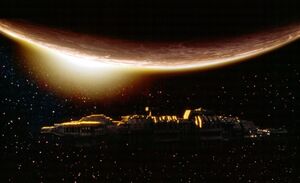 The USM Auriga was a medical research vessel that was used by the United Systems Military to conduct cloning experimentation on Lieutenant Ellen Ripley in the 23rd century.
Depiction
Edit
The USM Auriga was 12,000 feet in length and maintained a constant crew of forty-two enlisted Security Officers and seven science officers. An artificial intelligence program, FA-TH-UR, was in charge of managing the ship's autopilot and personnel organisation systems. The Auriga had a mess hall, several reservoirs, sleeping quarters, a surgical lab and several prison pods containing genetically-grown Xenomorphs. Its crew consisted of 42 military personnel and 7 science officers.
200 years after 2179 aboard the Auriga, the United Systems Military was finally able to perfectly clone Ellen Ripley after numerous failed attempts and successfully extracted the Queen embryo within her. The USM begins the repopulation process of the Xenomorphs through the use eggs produced by the Queen and impregnating the many human victims they kidnapped by the crew of the Betty.
Following the escape of several Xenomorph specimens the crew of the USM Auriga abandoned the vessel with its EEVs. The USM Auriga then autopiloted itself to Earth and exploded high in the atmosphere above Africa.