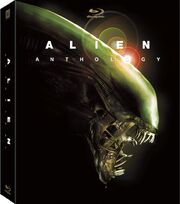 Hello everyone! Right, about me. I love Sci-Fi, and I have loved Alien and Aliens ever since I was introduced to them in January 2012 by a few friends who had seen them out of the hype over Prometheus (I'm increadibly hyped over this, too). Now, I saw Alien 3 after I received the box set, and it was a little better than I had expected (considering they started production without a screenplay) but it had its flaws (killing the most of the survivors of Aliens) and I don't think it lives up to the first two films. The Assembly Cut helps to add alot more solid material to the film, however. I then saw Resurrection a few weeks later... death would have been a more pleasurable experience. Human-Xeno hybrids?! Chestburster that easily slips through a ribcage and someone else's skull (check out Kane's Son struggle his way out in the original film if you don't see the continuity error)?! Seriously? Why can't this film take itself seriously. I mean, Ripley's story arc was already complete, but they need to strip her sacrifice of any meaning in favor of giving her freaking super powers! I literly can't comprhend how mind-bogglingly horrible this is... Ugh, I could rant about it all day...
I joined this wiki out of my excitement for Prometheus, combined with the fact that I have a strong dislike towards Xenopedia. I don't like AVP, I don't like heavy speculation, and I hate fanfiction. Sorry, the "no bad ideas" philosopy leads to movies like Alien Resurrection... Don't beleive me, go ahead and read this link. I'll apply my palm to my face and contemplate how proud it makes me how dignified this Wiki is. I hope to help improve this Wiki. It's in my programming...
I don't know what know how to feel about Prometheus since its realese.