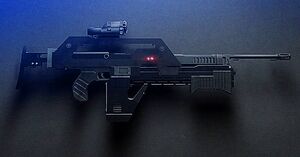 The Weyland Storm Rifle was a technologically advanced weapon manufactured by the Weyland Corporation.
Fabricated from heat-resistant micro-perforated titanium, the Storm weighs 1.3kgs (without ammunition). With advanced technology like satellite-guided target detection, the Storm can track and assess a threat at over 300 miles away. At close range, it fires 5.56 mm uranium carbide spin-stabilized rounds, with the aid of auto-adjusting crosshairs. It is extremely accurate and powerful.
Ad blocker interference detected!
Wikia is a free-to-use site that makes money from advertising. We have a modified experience for viewers using ad blockers

Wikia is not accessible if you've made further modifications. Remove the custom ad blocker rule(s) and the page will load as expected.